Why Beijing/Great Wall?
Because it's the Great Wall. So many people have been, and I wanted to see it for myself, up close, and see how it's structured.
I wanted to go to Beijing to visit Tiananmen Square because of the history, and I wanted to visit the Olympic Park and Stadium because I love the Olympics.
Itinerary
Wednesday, 5 November: Arrived in Beijing. Visited Tiananmen.
Thursday, 6 November: Visited Olympic Park.
Friday, 7 November: Great Wall tour, including jade factory and teahouse visit. Checked out Street food Street and Sun Dong An Plaza shopping center.
Saturday, 8 November: Visited Forbidden Palace. Checked out "dessert street".
Sunday, 9 November: Depart Beijing.
My Impression
Beijing was nicer than I thought and have heard. My previous experiences of mainland China was only the southern region when I entered through Macau and Hong Kong. Compared to the westernization of the two cities, mainland China was very basic, less developed, and less maintained.
Beijing was slightly more organized and maintained, although I wondered if that was because APEC was visiting at the same time. However, there was little to bring me back to Beijing. I felt that I had seen enough.
The Great Wall was great. But it's hard to comprehend the scale at which these walls were built, especially when I stood at a higher spot on the wall and looked out at a mid-point along the curving walls, trying to get a sense of scale and distance, and then imagine multiples of that as I looked out farther into the landscape.
Getting There
I flew direct from Rome to Beijing. The flight was ten and a half hours, but it didn't feel that long, partly because it was an overnight flight and I slept for a good amount of the time.
From the airport, I took a subway train into the city. There was a special booth to buy the ticket, and it costed twenty-five yuan. The ride took about 30 minutes. It dropped me off at one of the subway stations, but I had to exit the station for the airport train first before I could enter the subway system.
Accommodations
For Beijing, I booked my stay at the Peking Yard Hostel, partly because it was close to a subway station and that it was part of Hostelling International, which I became a member for this trip (although the only other time I used the membership was in London).
Since the hostel was located in the middle of a hutong alley, I studied the location on the map ahead of time to make sure I was going to the right place. Fortunately, there was the Hostelling International sign (albeit small) in front of the entrance.
The Staff
Checking in was relatively simple. Knowing that I couldn't speak Mandarin well enough, I eliminated all doubt that I was going to speak it by greeting the front desk with a gentle "Hello."
The staff working there seemed to be young adults, late teens or early twenties, maybe in college and this was their part-time job. But they were all very professional and friendly to customers but were casual amongst themselves. The more senior staff could speak English well enough.
At check-in, one of the staff came out from behind the desk with a full-size airport security handheld metal detector to scan my luggage. I thought it was really unusual, but I wondered if it was because the APEC summit was happening. But she didn't really scan the bag fully anyway. I saw her do that again with other new guests, and it was almost comical to watch.
One time, I was hanging out in the common area, and I was asked to watch the front desk because one of the staff had to step out to help another guest, and she assumed I spoke English. Fortunately, another staff member came back and I didn't have to do anything. When the original staff member returned, she mentioned how she asked me to watch the desk, and the other staff member revealed to here that I didn't speak Mandarin. They all had a laugh and they gave me a free tea. It looked pretty but tasted like regular tea.
The Room
I booked a dorm for my stay. Each guest was issued a key card for the room and a locker key.
My room held four bunk beds along one wall on the main floor, and there was a ladder between the bunk beds leading up to the attic for at least two more beds. They really crammed as many beds as they could. I was going to check out the attic but wasn't sure what I would do if someone was up there and they caught me peeking.
The room had very limited lighting, so it was dingy-looking for most of the time. I had the top bunk so it was slightly better.
The room had an off-and-on faint sewage smell. I tried to track the smell to the bathroom, but it wasn't it. When I first got to the room, I thought it was going to be a miserable four nights. But the smell went away randomly, and I was not too bothered by it throughout the stay, knowing that I was going to leave in a few days.
I was the top bunk, and it included a little shelf, a lamp, and an outlet next to the bed. The sheets were provided and made, and a light duvet was included as well, and it was all sufficient.
Lockers
Each guest had an assigned locker, and they were wooden cabinet with a key lock, and we're assigned issued key at check-in. My locker cabinets had a slightly broken door hinge, most possibly from overuse. It's been used a lot. It could fit a large backpack (though backpackers' backpack wouldn't fit because of the depth.
Laundry and Bathroom
I heard there was laundry service at the hostel but I did not bother to ask. So I washed my clothes in the bathroom and hung it in the empty space behind the ladder to the attic. Technically, it was probably communal area, but I doubted anyone was using it, so I took advantage of it. I hung my underwear and things, but I didn't care; I needed washed clothes.
However, because the sink looked dirty, I instead washed my clothes in a large clean plastic bag that I had with me. For some reason, after I was done washing my clothes, the previously clean plastic bag had the same random sewage smell as the room. I was pretty certain the smell did not come from my clothes, so it may have been the water or the shower floor, where I rested the bag when I stirred the clothes and water inside.
The bathroom was really basic with a shower stall, a toilet, a trash can, and a few hooks on the wall, though it didn't feel enough for me. Also, the trash can was for discarding used toilet paper, just like what I had to do in Peru. While I was familiar with the process and got used to it pretty quickly, the idea still felt quite strange and gross to me.
Common Area
The common area was pretty nice. There were a few grouped sofa seatings along one wall, and a few small tables next to them. On the other side was a dining table and pool table. There were a lot of plants (perhaps they were fake), which made the space much more friendly and comfortable.
There were just enough power outlets to charge my phone or tablet, but that was only when there were a few people around. If the whole place was packed, then there would not be enough people to charge their devices.
The casual vibe was also achieved by the mellow English songs playing throughout the day. One time, I heard a few of Jack Johnson's songs playing back to back, and that made my day, for bringing a piece of my life to the trip in an unexpected place.
Wi-Fi/Internet
Wi-Fi only worked in the common area. The speed was slow compared to the States and Europe. It was good for light browsing.
Also, they blocked many sites. For a few moments at the beginning, I felt a little lost for not being able to check Facebook. I was a little shocked to be able to experience first hand how some seemingly common and popular sites and apps were blocked.
There was also a Windows desktop computer with Internet access. I actually used the computer to transfer and back up the photos and videos from my phone to the flash drive I bought in South Africa, and that worked pretty well. I felt good to backup my photos so quickly, unlike the weeks of transferring them to the cloud.
Food
See Food section, but basically, the hostel had a decent menu of Chinese and Western dishes. The quality was solid, and the price was reasonable.
Next Time
While the staff was nice, the food was good, and the location was close to a subway station, after experiencing the setup on my room, I felt that I was grown up enough to be able to afford a regular hotel room instead. It would've made a lot of things easier and more comfortable, although I would have lost the opportunity to meet people like I did at the hostel.
Getting Around
Subway and walking. Beijing was surprisingly big. For farther distances, I took the subway, and for the rest, I walked.
I was surprised that Beijing had a subway system, and one that was pretty clean and reliable. That's why I didn't get a special multi-day or multi-use pass. But each ride was 2 yuan, about 30 U.S. cents, much more affordable than European and American subway fares, so I didn't mind buying individual tickets, as I needed.
Most stations had a security checkpoint, where my backpack had to go through a scanner. Depending on the station, smaller bags were okay. I was rarely in a rush, so that was okay. I couldn't imagine how rush hour would look and feel like for commuters. The stations at the Tiananmen Square even had security checkpoints for leaving the station.
Some station had machines that sell tickets. Some have staffed booths. Buying tickets at the booth was pretty quick. The staff are pros with trays of tickets, bills and coins in front of them a touchscreen next to them, ready to collect money, tap the screen to mark a sale, count the change, and issue the ticket. The tickets were in stacks at the ready, so I think they were reused.
At the platform were plenty of signs with route numbers, station names in Chinese and phonetic English, route map posters, and digital signs for arrival estimate. The space was also pretty clean and well maintained. There were glass walls and doors next to the boarding zone, and they would open in sync with the train doors. Some stations had signs pasted on the floor instructing where they should queue up, and people actually followed them. It's consistent with my experience in Chinese culture where the people respect queues for public transport, but in every other instances, it's a mob of people crowding and pushing to get their share.
On the trains were also route maps above the doors with lights along the route, marking the path with different colored lights. There was also a lot of advertising, on the walls, on the overhand handles, on TV screens on the walls. There was even advertising outside of the train in the form of frame-by-frame posters along the tunnel walls synced to the speed of the train so they practically looked like a video ad.
An example (from a video I found online):

Most subways stations were spaced a good distance apart. When I arrived in Beijing and took the subway for the first time to get to my hostel, I got off at a station that was the second closest to my hostel because it didn't actually connect to the closest station. I thought I should just walk it. But it turned out to be a twenty-to-thirty-minute walk with my carry-on luggage on my back. I was fine at the end of the walk; it was like a good walking workout. But I learned my lesson and made sure I got off at the closest station wherever I was going, even if it meant that I would have to take different trains.
Climate/Clothing
Time of year: Early November.
My body composition: 29 years old, 160-ish pounds, 6 feet tall, prefers high 70s/low 80s, primarily sweats during exercise only.
The weather was mostly cool. I wore layers and long sleeves all the time. In the middle of the day, when it was sunny and warmed up a bit, I would take off my jacket, but I'd still have my long-sleeve layers.
At night, it got very chilly, and I had my buff to cover my neck like a scarf. I wore my leather gloves as well.
On the Great Wall, it was still cool, but because of all the walking and hiking, it didn't feel as cold as it would have if I had just stood still.
People
I was in a different situation from other American/Western travelers in China because I am Chinese. The locals treated me more like one of their own, until they could tell that I wasn't a local.
In many instances, that came to my disadvantage because I was expected to behave and interact at a standard different from other travelers, but I inevitably fell short. That made me look incompetent to them.
One time at a bakery, the cashier did not have enough change to give back, and asked if I had smaller change. I understood the situation but couldn't understand her exact request and question. All I could do was just shake my head and say, "Don't have." and I wanted to say "Don't understand" in Chinese. Stuck in a tough situation, she started complaining at me, for making her get her coworker to help her get change and slow things down. In the end she had to give me change in the next highest denomination she had, which was a lot more than what she owed me and probably why she was so upset. If I looked more like a foreigner, she would probably still ask her coworker for help, but she would be more understanding and take it upon herself to resolve the issue instead of relying partly on me to help her as a fellow Chinese..
In general, though, because I stayed within touristy areas, the locals seemed to be used to travelers and would be fine helping them as best as they can. There may be prolonged stares if the visitors looked foreign, which may feel intimidating. But I can speak for Chinese people that most of them have a tendency to stare (albeit harmlessly) without realizing the how threatening they looked. Regardless, this was one of the advantage of looking more like the locals, the ability to blend in.
Language
I grew up speaking Cantonese, but Mandarin was the main dialect in mainland China, including Beijing. I could understand basic words in Mandarin and speak it if it's spoken slowly enough. But for travel, I would still need to know more phrases to successfully communicate with locals.
I learned Mandarin through audio tapes like the other languages for the trip. It was both easy and hard to learn because I was already familiar with some of the words and phrases but not others, so my mind was switching back and forth, figuring out if I already knew the word, and if I did, whether it was used the same way that I thought, and if it wasn't, I had to relearn it and remember the new definition and usage.
Nonetheless, it was still helpful to know how to read some Chinese characters so I could have some confirmation from posted signs that I was heading in the right direction or that I picked the right thing.
The subway was usually pretty good with including English in signs, although most of the station names were converted to Chinese phonetically instead of translated, so those who didn't understand Chinese would have to read the names carefully to make sure they go to the place they wanted. Outside of the subway system, it's a bit more tricky; it's a matter of luck for signs to include English.
Tours/Sightseeing
Tiananmen Square and Gate
Just like with the Eiffel Tower in Paris, and the Colosseum in Rome, after settling into my hostel in the early evening, I left the hostel and visited a major landmark in the city; I went to Tiananmen Square, specifically the Tiananmen gate.
I took the subway to one of the two stops for Tiananmen. That's when I noticed the security checkpoints to leave the station. I was also just figuring how to pick an exit, because oftentimes, it was harder to cross the street above ground, especially at an iconic site like Tiananmen Square.
Originally, I was going to check out the Square itself, but I arrived too late and visitor hours were over. There were guards at the crosswalks stopping anyone trying to get through. I saw one guy obviously running across the street to get in, but he was promptly turned away.
The sidewalk where the gate was, however, was still open to visitors. So I had to cross the street underground through the station.
While in front of the gate, I realized that less than twenty-four hours before, I was in from of the Colosseum in Rome. A flight and some traveling later, I arrived at another landmark almost half way around the world. It seemed like a common enough event, but it still felt special to me.
Less than twenty-four hours before:

A few days later, I made another visit to Tiananmen Square, after checking out the Forbidden Palace, which was behind the Tiananmen gate. Tiananmen Square was incredibly huge. It's hard to imagine any sort of public gathering that could fill the entire square with people.
To get to the Square, there were a few entrances. I took the eastern entrance, which was accessible after a crosswalk. There was a security checkpoint station with bag scanners. Lines were formed amorphously so like everyone else, I slowly pushed my way to the front.
Once inside, there were a lot of tourists, but like I said, because the Square was enormous, it actually felt sparse.
I noticed very few guards in the middle of the Square; they were mainly at the perimeter, especially the side closest to the iconic gate.
Olympic Park
I took the subway all the way north to the Olympic Park. There were two stations that stopped at the Olympic Park, but only the northern one was open. And since the Olympic Stadium was near the south side, I walked down the entire park, with very little to see along the way.
I found out somehow that the Olympic Stadium was closed to visitors, most likely because of the APEC summit. Even the area around it was closed off. So the closest I go to the stadium was the southern perimeter of the park. It was often obstructed by trees and fences, so I had partial view of the stadium and the Olympic Cauldron.
I walked around the southern perimeter, which was a ramped, trenched alley, and emerged on the west side, which was where the Water Cube aquatic center was. It looked closed off, too, so I only took pictures from a distance.
As I made my way back north, I noticed an art sculpture with a bunch of boxy-people figures stacked to create a giant tower. I thought it was really interesting and optimistic, so I took pictures of it, including a selfie.
To my surprise, the day after I returned home from the trip, I was running errands in downtown San Francisco and noticed a similar sculpture. Having just ended the trip, memories were still fresh in my head and seeing the sculpture was a nice reminder and full-circle throwback of my experience.
While I had only planned to check out a small section of the park (the stadium side), I managed to start from the north side, make a clockwise loop around the park, and arrive back at the northern station for my exit. It was a very long walk, but it was all I could do to milk my experience at the Olympic Park.
Overall, the visit to the Olympic Park was nice, but I was very disappointed that I could not see the stadium and the Olympic Cauldron up close or get inside. And since the Olympic Stadium in London was also having work done, my dream to visit Olympic Parks in the inspiring way that they had been for me was still unfulfilled with this trip.
I had little plans to visit Beijing again, but being able to check out the stadium, cauldron, and aquatic center up close, and hopefully inside, would be the only reason I would return.
Great Wall Tour Package
I booked a Great Wall Tour through Viator. There were tours that went to either Badaling or Mutianyu, and after looking up reviews on TripAdvisor, I decided to go to Mutianyu because it was supposed to be less crowded. Before booking the tour, I also briefly looked into getting to the Great Wall myself, which involved taking buses at certain times and whatnot, which, from previous experience of transportation in mainland China, I would feel more confident purchasing a tour that took care of all of that for me, similar to my Machu Picchu tour in Peru.
My tour guide Jacky called my hostel the previous day to confirm the tour and the pick-up time. The morning of, Jacky picked me up and I followed him down the hutong to the main street and hopped on the van. As we made our way, he asked where I was from and if I spoke Mandarin, in Mandarin. I responded in English that I was from the States and I spoke Cantonese and very little Mandarin. Once I got on the van, I sat in the back since I noticed that the van was full and I was the last pickup.
The tour included a stop first at a jade factory in the city. We saw workers behind glass walls filing down jade into shapes, and went into rooms checking out the different types of jade and learned how to spot fakes. Then we were given a good amount of time to browse through the sales floor and shop for jade products. I didn't get anything because 1) I had no plans to buy jade on the trip; my plan was to see the Great Wall, and 2) any purchases would take up an additional space in my luggage.
After the jade factory, we made our way to the Great Wall. The ride didn't feel too long, especially when Jacky was practically constantly giving us little factoids and history about the Great Wall. It was almost getting annoying. He even started to sense it and mocked himself, asking us to remember the factoids to recite to our friends, in addition to mentioning that the tour guide never stopped talking. For what it's worth, I commended him for putting in the effort and energy to inform and to keep us awake and entertained.
As we approached the site, Jacky explained how the tickets worked. He mentioned how we could hike our way up the mountain to the Wall, or take a ski-lift ride up, which costed money. In my head, I thought it would be fine to get to the wall on foot, but everyone else seemed to want to pay to ride up, and also honestly, I was confused by Jacky's explanation, so I just did what everyone else did.
I continued to follow everyone else and took a ski-lift ride up the mountain. It seemed like an exciting thing to do, but considering all the stuff I had done already on the trip, it was pretty anticlimactic. The one thing I noticed was a track for toboggan slide down. Considering how this was China, I felt a bit uneasy to doing something like this, putting faith in the construction quality of the track.
Once I got off the lift at the top of the mountain, walked up the stairs to the wall, and stepped foot on the inside of the wall, a rush of excitement went through me very briefly. I had the "I am really here!" feeling quite quickly; usually, I had to stop what I was doing, become aware of the present, and remind myself where I was and be grateful about it. But for some reason, seeing the top of the wall, and that it continued down both sides for as far as I could see, made me feel very open, free and compelled to explore the the entire length. I was very giddy in my head, though I did let out a smile. But I soon calmed myself down and began my walk.
Some of the towers between the walls looked very well-designed with built-in walls dividing the interior into different sections. I couldn't really imagine what could possibly be in these sections, other than weapons. But the window views were neat to look through.
Some parts of the walls had very steep steps, some as tall as two feet, I felt. It made me wonder how soldiers back then would be able to go from one tower to another tower without becoming winded just from climbing the steps.
At the end of our allotted time, I returned close to where I got off the ski lifts, but instead decided to ride the toboggan back down, partly because two other guys from my tour group did it, and partly because this was a rare opportunity, and I had to take it.
The toboggan ride was kind of fun. It had a smooth metal track but the speed was medium so there was not a point on the ride where I felt like it was so fast that I could potentially fly off the track. There was one control: a stick between my legs. It allowed me to slow down the toboggan and to stop it. Even though there were plenty of signs along the way that said "NO STOPPING", I had to slow down a few times because there were a few riders in front of me that required me to slow down or stop so I didn't crash into them.
Someone's video of riding the toboggan:

Throughout the ride down were also small spaces where someone would sit at a chair with the radio, monitoring traffic. There were also signs along the way to discourage riders to stop the toboggan to take photos. The only photo I took was me at the start of the track getting ready to ride down.
Lunch and Cloisonné Enameling Factory
After getting back to the base of Mutianyu, we made our way back to the van and headed for lunch. We went to a small restaurant in the middle of nowhere and had a standard Chinese lunch. I got a chance to learn about the other people from my tour group and it was interesting hearing people's backgrounds.
There was this one lady and her teenage son, who were from LA. She seemed to have, let's say, a lot of care taken to her facial appearance, which was an LA stereotype, and her son looked like a skater boy type of teenager and appeared to be bored most of the time. But when she talked about her travels around the world, she gave a spiel about how people in other countries making less money than we did or living in homes that we considered undeveloped were actually not poor, that it was just the way they lived and their standard of living was just lower, and to judge them based on that was unfair. And when the son took off his beanie, he looked more like a mature teenager, happy to take a trip with his mom. That and the spiel made me feel bad and guilty about the assumptions I made about them, and it reminded me to continue to be open-minded about other people, especially strangers.
After lunch, I thought we were going to get back on the van and head back to Beijing. Instead, Jacky led us to the Cloisonné enameling factory right in the same property as the restaurant. I had no idea; and it started to make sense why we had lunch at a restaurant in the middle of nowhere.
Cloisonné was apparently an ancient art form where special color powder were decorated onto copper pieces and then baked in a kiln to set the color. We took a brief tour of the factory, which pretty much consisted on room after room, divided by the different stages of the process. The store sales floor obviously had a lot of cloisonné merchandise for sale. The pieces there were quite impressive, especially large floor vases. Despite the beautiful work, I still diddn't buy anything from the store.
Teahouse
Our last stop the Great Wall tour was to learn how to make and drink tea at a teahouse in the city. We were led to a room with chairs around a table full of jars and set up, and we were introduced our tea expert. She taught us the etiquettes and process of drinking tea in Chinese culture, along with the different tea types that they made.
I had interest in teas, though not to the extent of setting it up like a teahouse. In my fascination and raised interest in discussions about teas, after the tea tasting, I picked out one of the teas I liked and bought it. This was different from how I normally behaved, especially from earlier that day at the jade factory and the Cloisonné enameling factory. Also, the tea was kind of bulky so it would definitely take up some space in my luggage. But I thought that since my trip was going to end soon, I could afford to carry that weight for just a little bit of time.
One of the stories Jacky kept mentioning before the teahouse was how it's important to hold the tea cup a certain way (with all fingers inside) and not with pinky pointing out, otherwise the person would be considered a "lady boy" like a gay, who would have served the emperor in the old days. Perhaps it was my Californian sensibilities, somehow that sounded insensitive and a little ignorant to me. Knowing the culture, though, I'm almost certain it was only meant as a joke. An outdated one by my standard, and I was not amused.
Shopping Area
After the Great Wall tour, I asked the two German guys from my tour group if I could join them in checking out the apparently well-known street food scene. So instead of being dropped off at my hostel, I got off the van and said goodbye to Jacky and the rest of the tour group.
We ended up around the intersection of Donghuamen Street and Wangfujing Street, which seemed to be a large tourist/retail area.
We started exploring the area, looking for the street food. On the way, we noticed an interesting looking vehicle where the wheel was the frame, and the whole thing rocked back and forth. It looked kind of cool and I wanted to try it.
We found the street with the long row of street food vendors. Apparently, it was one of those street foods that served insects on sticks. One of my new German friends was so excited about this and had a mission to eat different types of large insects and bugs. The vendors also seemed to favor and call out foreign-looking travelers in their best English to try their food. It's a thing that I was not aware of but also not surprised by.
For me, I stuck to more regular food, like potstickers.
After that, we checked out the Sun Dong An Plaza shopping center nearby. It was really nice and large. We looked for more food (I had a McDonald's sundae, even though we ordered McFlurrys), checked out movies that we could maybe watch in the theater, and checked out the giant screen showing us on the ground floor.
After that, I led the two guys, who didn't know any Chinese, to the subway station so they could have a better chance of getting back to their super cheap hotel somewhere south of where we were. I took the subway and returned to my hostel.
Forbidden Palace
On my final full day, I decided to check out the Forbidden Palace. I took the subway to Tiananmen and lined up where the signs directed. The place, which was considered a museum, opened at 8:30am, but there were already a lot of people in line. Fortunately, once the doors opened, the lined moved pretty quickly.
I actually got to walk through the main Tiananmen gate, the same one commonly seen in photos of Beijing. I felt the weight of the giant portrait of Mao as I walked towards it, conflicted by the differences in political ideals, despite this supposedly being the land of my people.
After walking through another gate (Duanmen), I queued up to buy my admission ticket. Then I looked around for the place to get an audio guide, which was near the entrance of the actual museum. The staff who loaned me the audio guide was surprised I wanted the English version.
The audio was kind of cool because it had a map of the museum, with different lights at different locations. Depending on where I was, the audio guide would detect it and play the corresponding recording about that spot.
The first few sections of the tour were the main gates and buildings of the palace, like the Meridian Gate and the Hall of Supreme Harmony, where the emperor meet officials and guests and whatnot.
Then I moved on to the side quarters where the emperor's wives and other relatives lived. It was a bit disorienting because it was essentially room after room and red-walled alleys one after another.
For some reason, I was fascinated by the red walls. Even though the museum probably has people repaint he walls red every once in a while, I felt that they could still tell so much history about the place. Also, the fact that they were just painted red without any other decorative paintings or writings. Compared to modern times, blank walls would be subliminally asked to be filled or vandalized.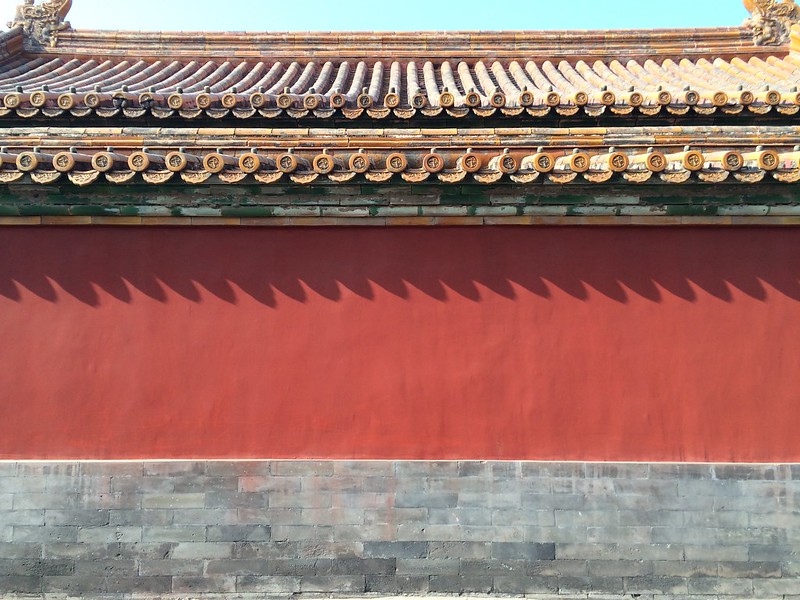 Near the end, there was a room that displayed the last emperor's things. One of them was a plate that showed the Coronation of Napoleon I.
I recognized that painting very clearly, for I had seen the real thing a few weeks before in the Louvre. This was somewhat trippy, because I immediately imagined France in the early 1800s, picturing how that painting would someday be copied onto a plate and delivered almost halfway around the world. I also wondered how the French would explain the significance of the painting. Seeing how history transports and intersects was very fascinating to me.
The last section of the museum was a garden, where a lot of people were hanging out, perhaps because they didn't want to exit just yet. I hung out there too for a bit, but ultimately, I returned the audio guide, which was buzzing anyway either because it ran out of power or that it automatically signaled the end of the tour.
Food
A note about my relationship with food: I am more of a "eat to live" type of guy. In my regular daily life, I try to eat very healthy, and I splurge a little bit once in a while. When I'm traveling, I loosen my restrictions a bit and eat what I can get, while still trying to select the healthiest choice. However, if there is a dish or a food that is well known where I'm traveling, and it's within my taste preference and budget, I would put in extra effort to try it. And my weakness is desserts.
Hostel
Surprisingly, the hostel had a decent selection of food. The menu consisted of half Chinese dishes and half Western dishes. For breakfast one day, I ordered a western breakfast, which apparently consisted of toast, a fried egg, sausage links, potato patties, and bacon. But food seemed to be smaller in China, and I wasn't sure what kind of meat was considered bacon in China.
I also ordered a spaghetti with carbonara sauce, because after my experience in Rome, I still thought carbonara was a red sauce.
Nonetheless, the cooked meals at the hostel was solid, probably because guests had to pay, so the quality had to be at a certain level.
Convenience Store Food
I had trouble finding a standard grocery store near my hostel in Beijing. All I could find were convenience stores that sold snacks.
One of the things I got was "biscuit rolls", which were very flaky egg-based victor in the form of hollow rolls. They're usually sold in large tin boxes, but at the convenience stores, they're available in smaller, manageable boxes.
Chinese Pastries
Aside from the meals at the hostel, I relied on bakeries to fill the gaps. When I was growing up in Macau, I must have had pastries a few times a well for breakfast and as afternoon snacks. There was a wide variety, and I had my favorites.
I couldn't tell what these were exactly, but they may very well be hot dog bun and raisin bun. My other favorites included the cocktail bun, which was actually a coconut and custard filled bun, and the pineapple bun, which was a regular bun with crusty egg-sugar layer.
One of the bakeries also sold prepackaged pastries, including gChinese rice krispies, which were more crunchy than the Western version, and a version of the "wife cake" which was a flat flaky cake with filling inside.
Dessert
I asked the hostel staff where I could find Chinese desserts, especially the warm, soupy ones. One of them told me there was this street a few blocks from the hostel that was called "Dessert Street", officially South Luogo Alley. She gave me directions and I decided to make a trip a little later in the night, even though it was very cold outside.
Sure enough, the street was lively with people, despite the cold. I did a quick walk down the street and back to see what types of shops were available. There were warm desserts shops, for sure, but there were also candy shops, bars, and cold dessert shops as well. I usually had no problems eating ice cream in the winter, but I felt that there was no satisfaction in eating cold dessert when my face started to get numb.
I found a simple, humble tofu dessert shop, and I ordered a warm tofu dessert with red bean. The tofu was fresh and light, but it was almost lukewarm, and it pretty much didn't do much to help with the cold. Still it was a nice treat to have.
Getting out
I took the Airport Express train from the city back to the airport. When I was at the station to take the train, there was a long security line to scan bags before entering the platform.
Once at the airport, I took an airport shuttle to transfer to the correct terminal based on my airline and flight. The airport seemed to be split up into isolated terminals where people could only go from one to another via the airport-controlled shuttles. I was glad I had lots of time before my flight; I would've been much more antsy on the shuttles and out of breath from running across the hall.
From My Travel Log
23 November 2014, 11:17pm, SF Home, bed

​People have been asking me how the trip was, and while I want to go in detail, all I could say was "great" and that it was a lot of things happening in a short time. I've also been saying that my favorite spots where Machu Picchu, Eiffel Tower, and Great Wall. My favorite locations were Nice and Maui, coincidentally places with beaches.
Thanks
​
Italian guy next to me on plane
Guy in airport elevator who told me without words but just sounds that I was already on the right floor
A mom and her daughter and the mom's friend chatting on the airport train
Hostel reception
The two workers at the nearby bakery who ask me for small change but I didn't have any and I couldn't express sufficiently or answer their following questions so I stayed quiet and they ended up rounding to next yuan and gave me more change
Everyone who worked at the subway stations
Guards who work around the Olympic Park
Jacky the tour guide
John, Patrick and Patrick, Canadians, Swedes, Californian mom and son
Toboggan operators
Copper pot explainer
Tea house staff
Couple who helped me takes slanted wall picture
Guy from group in CA who took pics of me at Great Wall with Mao sign on hill
Lady at Forbidden City tourist center who awkwardly directed me in good English where audio guides were
Lady at audio guide booth who seemed surprised I wanted English guide and explained how the thing worked
French guys who I briefly talked to in French and English and who helped me take a photo that didn't turn out as cool as I expected
Obnoxious guys at Tiananmen Square who tactlessly asked me to move away from their shots
People who kindly sold me till for dessert on cold desert street
Bakery people who sold me stuff
Tips
If you're taking the subway to get around the city, make sure you get off at the closest station for your destination. The stations are relatively far from one another, unlike the stations in major American and European cities.
Most subway stations in Beijing had security checkpoints. It would be wise to travel light whenever possible so you may not need to scan your belongings. Mainly because of this, give yourself enough of a cushion so you're not late.
The quickest entries into Tiananmen Square would probably be the southern corners of the square, because it's the farthest from the Tiananmen Gate, so there's less people already in that area. I noticed this after I entered the Square and saw the line to enter through the south side had a lot less people.
If you're going to Mutianyu to see the Great Wall, take the toboggan ride down if you can. For most people, it's not scary. It's almost like a children's ride.

​

If you're taking the toboggan ride down, wear a GoPro so you can capture the ride without finessing with your camera while riding down the track.
Links
For More
If you have questions about specific experiences of Beijing or the Great Wall, feel free to leave a comment and I'll try my best to answer.